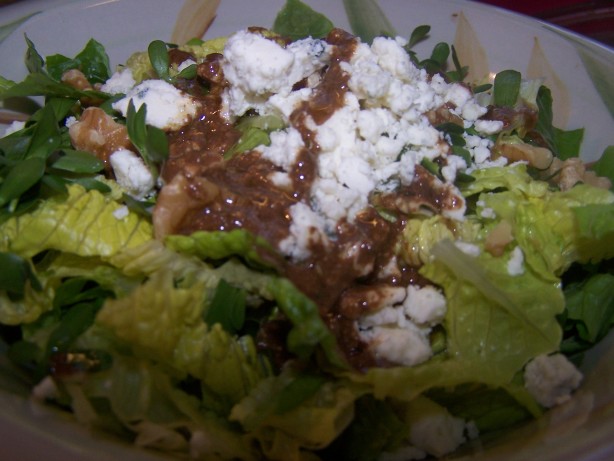 WATERCRESS SALAD
with Balsamic Basil Vinaigrette
California Pizza Kitchen Restaurant Recipe
Salad:
1 head romaine lettuce, cleaned, cored and cut into 1 inch bite size pieces
1 bunch watercress, cleaned and cut into bite size lengths
8 ounces Gorgonzola cheese, crumbled
2 cups walnuts, shelled halves
Balsamic Basil Vinaigrette:
6-8 large fresh basil leaves
6 tablespoons balsamic vinegar
1/4 pound Gorgonzola cheese, crumbled
3/4 cup, mild flavored olive oil
To make the Dressing:
Combine all the ingredients except the oil in a small bowl. Whisk to blend. Slowly add in the oil while whisking.
To make the Salad:
Combine the greens in a large mixing bowl. Add the dressing and toss to coat all the leaves. Transfer the dressed greens to serving plates. Top each salad with crumbled Gorgonzola cheese and walnuts.